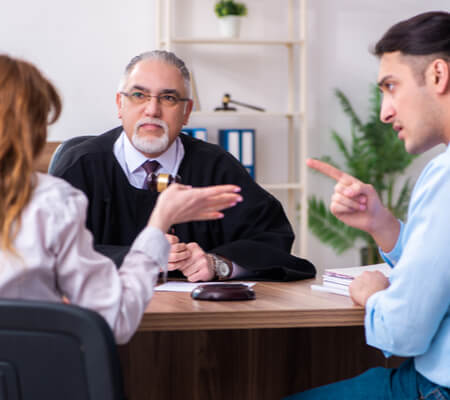 The decision to divorce your spouse is challenging and emotionally difficult one to make. The decision and subsequent process can be even more complicated if your spouse has narcissistic personality disorder. Leigh Daniel has experience working with clients that are divorcing their narcissistic spouse and can help you through the process. Call us now for a divorce consultation: (256) 551-0500!
How to Handle a Narcissist in Divorce
When dealing with a person who has these selfish and combative traits, your divorce can quickly become a high-conflict situation. Separating legally, financially, and emotionally from a narcissist can be challenging, but for most individuals, it is undoubtedly the right thing to do.
What Is Narcissism & How Will It Affect My Divorce?
To get away from a narcissistic or toxic spouse, you first need to be able to identify narcissistic traits and determine if your spouse displays them.
According to Psychology Today, a person with a narcissistic personality disorder will usually:
Have an exaggerated sense of self-importance
Will believe they are superior to others
Require constant admiration from others
Take advantage of others to get what they desire
Ignore or be unable to recognize other people's needs or feelings
As a result, narcissists usually have difficulty maintaining healthy relationships. This is likely why you are looking for a "way out."
How Do You Know If You Are Divorcing A Narcissist?
In relationships, narcissists often:
Have difficulty regulating their behavior and emotions
Will become angry if they don't get special treatment
Become depressed if they don't feel like they are "perfect"
Will belittle their spouse to make themselves feel superior
Will be easily offended and may have serious interpersonal problems
While persons with this disorder could seek treatment, many do not realize that they need it or will refuse to admit they have these issues.
Getting Out of an Abusive Relationship with a Narcissist
Because narcissists are so focused on themselves and not the wellbeing of others, getting out of a relationship with one can be difficult, complicated, and ugly. Ultimately, it is for the best for you and any children you have from the relationship, but it is critical that you take certain precautions to protect yourself during this often-challenging process. Some important steps include:
Hire an experienced divorce attorney.
You will have a better chance of getting a fair separation from a narcissistic spouse if you have an attorney who has handled high-conflict divorces in the past. You need an advocate who will fight for you and will make sure you get what matters most to you.
Prepare for battle.
Narcissists can be charming, so the judge and others may not immediately see them for who they are. Make sure to document every conversation that you have with your spouse and do as much over email or text messages as possible so there will be a written record. Remember that narcissists lie and make false promises all the time, so do not trust your spouse to do what they say they will. Protect yourself from their lies by thoroughly documenting and preserving all of the evidence you need for your case.
Do not react with anger.
Don't let your spouse get the best of you during the divorce process. Responding to them in this manner can sabotage your case. Have a clear plan of action to deal with them and any unexpected "curveballs" they may throw at you. Remember to stay in control of your emotions at all times, especially in court.
Minimize contact.
It is a good idea to put distance between yourself and your spouse as early as possible during the process. Fewer interactions will make the divorce process easier on you. This is often difficult, because your spouse may push for more contact, may refuse to move out of the home, or may manufacture reasons to talk to you, especially if you have kids. Try to keep them at arm's length as much as possible.
Consider strategic ways to let them "win."
Narcissists are all about winning. They selfishly believe that if you get what you want, they are automatically losing something. If you and your attorney can determine areas where you can concede to their desires without sacrificing the things you care about the most, your spouse may feel as though they are largely getting what they want and may be more cooperative.
In all, be prepared for the process to be long and complicated. Fortunately, with the skills of an experienced divorce attorney on your side, you may be able to minimize the negative impact that the divorce will have on you and your children.
Military and Narcissism: Is There a Connection?
Many military personnel and their spouses live in Huntsville near the Redstone Arsenal and other military installations. Experienced divorce attorneys will often point out that the military often enhances narcissistic personality disorder, with its focus on the importance of rank, elevated or elite status, isolation from civilian society, and the admiration that naturally and deservedly comes with service to your country.
To be clear, not all military members are narcissists, but the military seems to attract those with narcissistic traits more than the civilian sector, according to studies of military and civilian outpatient populations.
If you are a military spouse and you suspect that your spouse may be a narcissist, you may want to consider your legal options and consult a therapist and a divorce attorney to discuss your options.
How Leigh Daniel Can Help With a Narcissist or Toxic Spouse
Alabama family attorney Leigh Daniel has the experience and knowledge you need on your side if you're divorcing a narcissist. She offers the emotional support you need during this challenging time, and she understands how narcissists operate and the tactics they'll try to take to gain the upper hand during a divorce. Leigh Daniel understands how to handle these people and can help you with your divorce.
The first step you need to take is to call Leigh to schedule a confidential consultation. Call her, fill out an online contact form, or chat online to get the help you need today.