You want to be in a good mood. Seriously, you don't really want to be grumpy, bitchy, hateful, or hostile. You are a nice person. Really, you are.
But life seems to conspire against you. Take for example a typical Monday morning, you wake up and it's raining (again). You reach for something to wear and everything seems to be tight, ugly, and unfashionable. Did I mention your hair? It isn't cooperating in the least! Oh well, it's too rainy to be concerned. Time to leave, your walk to the tube station will be miserable. Once your there you have ages to go before you reach your stop. Once you're at work, your co-workers are also gossipy and horrid. The work is boring and the clients or customers can't seem to be pleased. You get the idea right? Being upbeat seems impossible when you've got life to deal with. It's easy to be happy when you are hanging out with friends at a pub or watching a good film. Yet the real world, it's well, real work.
I understand. I'm a divorce attorney who has been practicing law for the last 23 years. Do you want to talk about unhappy clients? Every person who walked in the door was angry! I got so accustomed to complaining along with them that it became second nature to me. Living in this space of finding what's wrong instead of what's right will take a toll on you and your ultimate desire to be a happy person. I know, I was miserable. But I found a solution.
It's going to sound simplistic and maybe even a bit silly. Yet, give it a try and see how it transforms your life. We all have a choice with how we view the world. Take for instance the Monday above. Let's see how it feels if we turn it around.
You wake up grateful that you a job to go to. It's raining and that's good because you've got an amazing trench to wear. You get ready and appreciate the way you look. You enjoy the walk because you know you are moving your body. The tube ride will end too soon because you're listening to a great podcast or reading a great book. You are glad to see the people you work with they are eager to talk to you. The clients and customers are calling and coming in and you are so glad because it's job security.
Which is better? Nothing has to change except you and how you see the world.
I remember when I first taught this principle to my co-workers. Admittedly, they believed I was nuts. How can we appreciate the clients who are so angry and irritable? I called a cease fire on all the negative banter and complaints in the office. One day my assistant called me, "Mr. Smith called. He's so nice. He hung up on me. Which was great because he was cursing me." I laughed and said, "Yea, Mr. Smith is a great guy." I know it sound silly. But once you try it, you'll see. Even the most atrocious things can seem funny to you.
Each of you, no matter what the circumstances you are in, have something to be grateful for and something to be happy about. When you start to complain, vent, rant, and rave – stop.
Turn it around. Remember, you are a positive, happy person who everyone wants to be around. It really starts with you!
About Leigh Daniel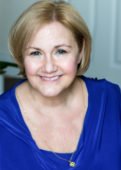 Leigh Daniel is the founder of Project Positive Change. After almost 20 years of high-fly legal career, Leigh began to feel the heavy effects of divorce practice. Despite her successful practice and good reputation, she was filled with sadness. And so she began looking for ways to find happiness. After being impressed by an audio program called "Playing the Matrix" by Mike Dooley, she went on to his "Train the Trainer" conference in Seattle. From this starting point, she went on to create Project Positive Change, a global movement of positive change makers, all united in their belief that life can be created by design. Leigh is a published author, has led numerous workshops and presented to hundred of peoples. Most recently, she began coaching people and designing her own programs for clients, attorneys, and people who want a more positive and fulfilling life. For more information, please visit www.projectpositivechange.com.
Source: http://www.sloanmagazine.com/reframing-leigh-daniel/