The first step is to determine if your spouse is going to be willing to agree to an uncontested divorce. Ideally you have gone over the proposed terms before you come in to see your lawyer and no issues are being contested in the divorce. This will make your chances of having an easy divorce much better. If you haven't spoken to them before you have the papers prepared that's not a deal killer but it may take some tweaking and tweaking translates into time and money.
Let's go with the first option and assume you've gone over the terms and are ready to go to the divorce lawyer. You need to have all the information about your assets and debts that they may need to prepare the documents.
Items Needed to Get an Uncontested Divorce
Some things you will need for your uncontested divorce are:
Full names
Social Security numbers
Addresses
Birth dates
Date of marriage
List of assets and debts
Name and address of employers
Make and model of cars
List of the financial accounts
Legal descriptions of property
A list of personal property to be divided
Information regarding various retirement accounts
What visitation schedule you want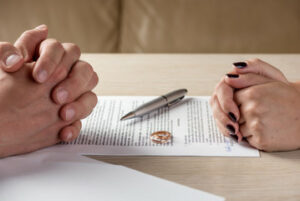 This is by no means an exhaustive list but this is a good start for the documents and information you need to get an uncontested divorce.
Once your attorney has prepared the documents and you've reviewed then it's time for your spouse to review and sign.
When you both sign the paperwork then the case is filed with the Court. In Alabama, there is a thirty-day holding period. Once the papers are back from the Court make sure you follow up recording your new deed, getting your retirement accounts sorted, and changing your name (if applicable). These are a few things you may need to check into and certainly, there may be more depending on your circumstances.
An uncontested divorce usually is much faster and more cost-efficient but it still has several moving parts.
For more resources on uncontested divorces, read the following from our blog: